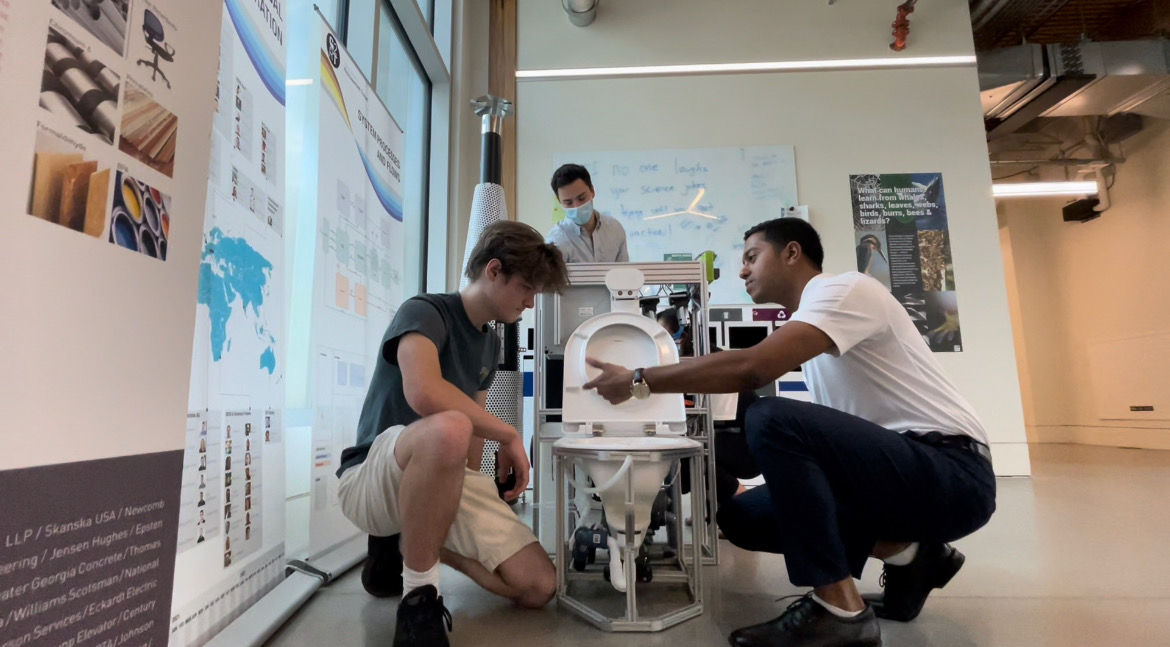 Samarth Suresh has always been passionate about water quality. Growing up in Bangalore, India, he observed sanitation and clogging problems regularly disrupt the water system. Now the environmental engineering master's student gets to help solve the problem directly as a research technician for Georgia Tech's Generation 2 Reinvented Toilet (G2RT) program.
As apart of the Reinvent the Toilet Challenge, the G2RT program is a global collaboration led by Associate Professor Shannon Yee and receives funding from the Bill & Melinda Gates Foundation. In line with the foundation's initiative, the G2RT aims to create a toilet without inlet water or output sewer lines that could enable distributed sewage treatment to be processed in households instead of sending it to centralized wastewater treatment plants.

Students work on the G2RT toilet
The first working G2RT program toilet is in the Kendeda Building for Innovative and Sustainable Design, managed by a team of six students led by Suresh. The toilet in Kendeda is not the only G2RT with student workers, though. Aerospace engineering undergraduate Jacob Lee has been showing the toilet on the Georgia Tech Lorraine campus during his study abroad in France. Like Suresh, Lee has been passionate about clean water for years after his siblings started a water filtration nonprofit called Leave A Trace.
"I was lucky enough to travel to many of the sites where systems were installed, and I saw firsthand the sanitation issues that many around the world face; this crisis is not just limited to drinking water, but also waste management systems," he said.  "When I heard that Dr. Yee was working on a project that had the potential to provide change to this problem, I jumped at the opportunity to get involved."
"This job gave me the opportunity to step up and be a leader in this area so that the next generation doesn't have to live with any of the problems we did," Suresh said. "I always wanted to do something with the Gates sanitation challenge, and G2RT is perfectly aligned to my goals."
The team is responsible for testing the functionality of the toilet daily with human waste as well as other objects like tampons, toilet paper rolls, and even Lego blocks. One of the main challenges is ensuring the toilet is recycling enough water to fill the tank. The students frequently work with engineers to suggest improvements to future iterations of G2RT. They also offer demonstrations to fellow students, researchers, faculty, campus visitors, and potential investors.
"The unpredictability of the job is something I really love, but nothing beats engineering your way through a problem on a product that has the potential to impact so many people," Lee said.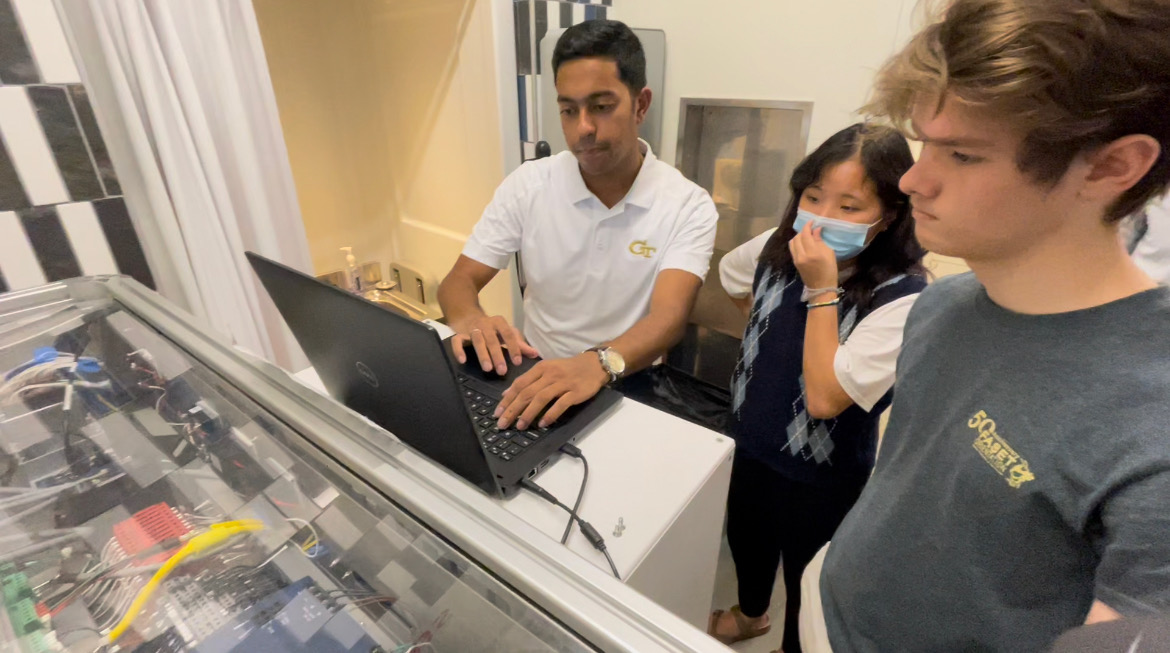 The work is more than just a student job, but a chance for students to have a real-world impact and build their careers.  
"I am hoping to apply this job to my future career," said Shalini Moua, a toilet technician and rising fourth year environmental engineering student. "One of my goals is to provide proper and safe sanitation in developing and developed countries, and one day I would like to travel to other countries to help people in need. I am grateful to be able to participate in this development project, and I would love to continue working on it."
Ultimately, this work is part of a larger Georgia Tech goal.
"The G2RT program, as a global collaboration, is an example of how Georgia Tech is fulfilling its mission to develop leaders who advance technology and improve the human condition," Yee said. "Just imagine what other global problems our students, faculty, and researchers can solve for humanity." 
Story by Tess Malone
Video by Steven Norris